First snow of the winter, Aviemore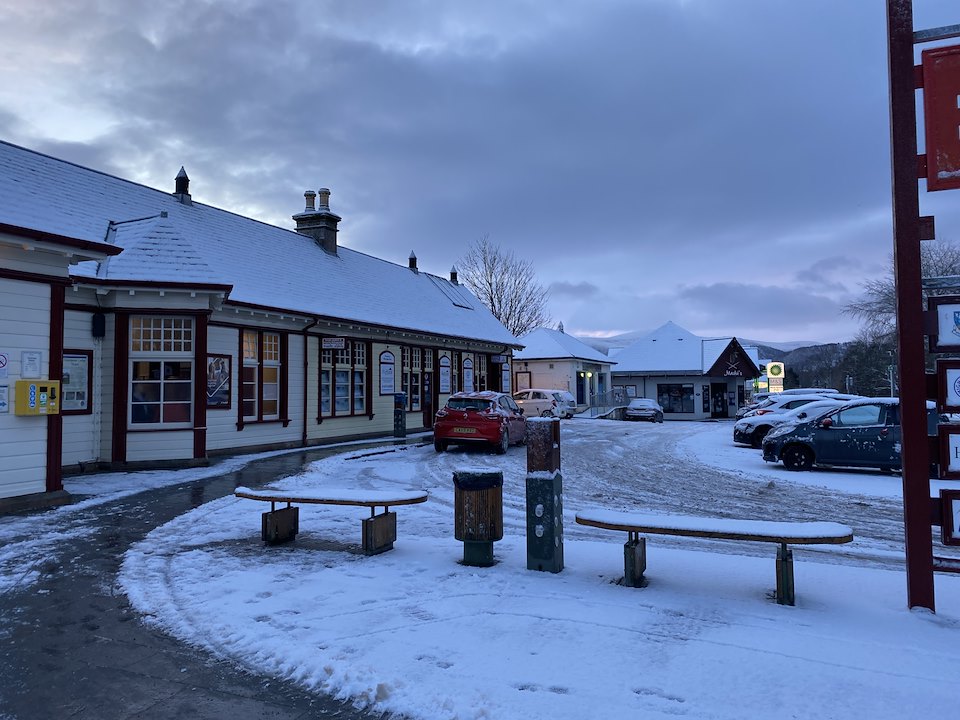 It's just one of the many things that makes visiting the Highlands so appealing at this time of year - snow!
And after all the forecast reports over the last few days, I was fully expecting to open my curtains to at least 2-3 inches of snow this morning. Despite this, we've only had a centimetre or so, but it is an exciting reminder of how wonderful it is up here in Aviemore at this time of year, and it does make me feel way more festive.
The village looks so pretty in the winter snow, especially with the festive lights on display up and down the main street. Christmas lights have appeared in shop windows and homes are now alight with the festive spirit!
There are a few new lights that have been added to our annual displays year. The first is an ice skate which represents the ice rink we now have close to the village centre (https://www.aviemoreicerink.com/). The second is a polar bear, to represent our beautiful polar bear family, you can visit Walker, Arktos, Victoria and Hamish the Highland Wildlife Park in Kincraig (https://www.highlandwildlifepark.org.uk/).
Those are just a few of the things you can see over the winter months in the Cairngorms National Park. For me though, I'm looking forward to the Christmas Eve Parade! Watching the Cairngorm Reindeer Herd (https://www.cairngormreindeer.co.uk/) pull Santa down the main street in his sleigh accompanied by a marching pipe band and the school floats is really spectacular. The whole village, residents and visitors alike, then follow them all down to the Cairngorm Hotel for carol signing, gluhwein and fireworks.
Now those are certainly a few more things to make a visit to the Highlands appealing this winter don't you think?
If any of this takes your fancy, we have short breaks available all winter, including over Christmas and New Year.
You can search availability here: https://www.highlandholidayhomes.com/Properties