Self catering holiday homes sleeping 2 - 14.
View our range of high quality, self catering holiday homes in Aviemore, Boat of Garten, Nethy Bridge and Grantown on Spey. Holiday accommodation includes apartments, bungalows, cottages, houses and lodges in a variety of more central or rural locations. Each of our properties are privately owned and vary considerably, some include luxury items such as hot tubs and sauna, some have enclosed gardens ideal for families with pets. Please make any specific requests at the time of booking to ensure we are able to accommodate any special needs or requirements.
During school holidays through out the year (February, Easter, Summer and October) we run week only bookings from a Saturday to Saturday (arrival at 4pm and departure at 10am).
Outwith these school holiday weeks you can book any period from 3-14 nights. For other options, please call on 01479 811 463.
Change your search
Find your property
Sleeps 4/6 | 2 Bedrooms
No pets
Wifi
pool Leisure/sports facilities

Sleeps 4 | 2 Bedrooms
No pets
Wifi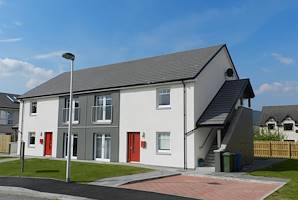 Sleeps 4/5 | 2 Bedrooms
No pets
Wifi

Sleeps 6/8 | 3 Bedrooms
No pets
Wifi

Sleeps 4 | 2 Bedrooms
No pets
Wifi

Sleeps 6 | 3 Bedrooms
No pets
Wifi

Sleeps 9/11 | 5 Bedrooms
No pets
Wifi

Sleeps 4/5 | 2 Bedrooms
No pets
Wifi

Sleeps 6 | 3 Bedrooms
No pets
Wifi
pool Leisure/sports facilities

Sleeps 8 | 4 Bedrooms
No pets
Wifi

Change your search