Sunny May in Aviemore?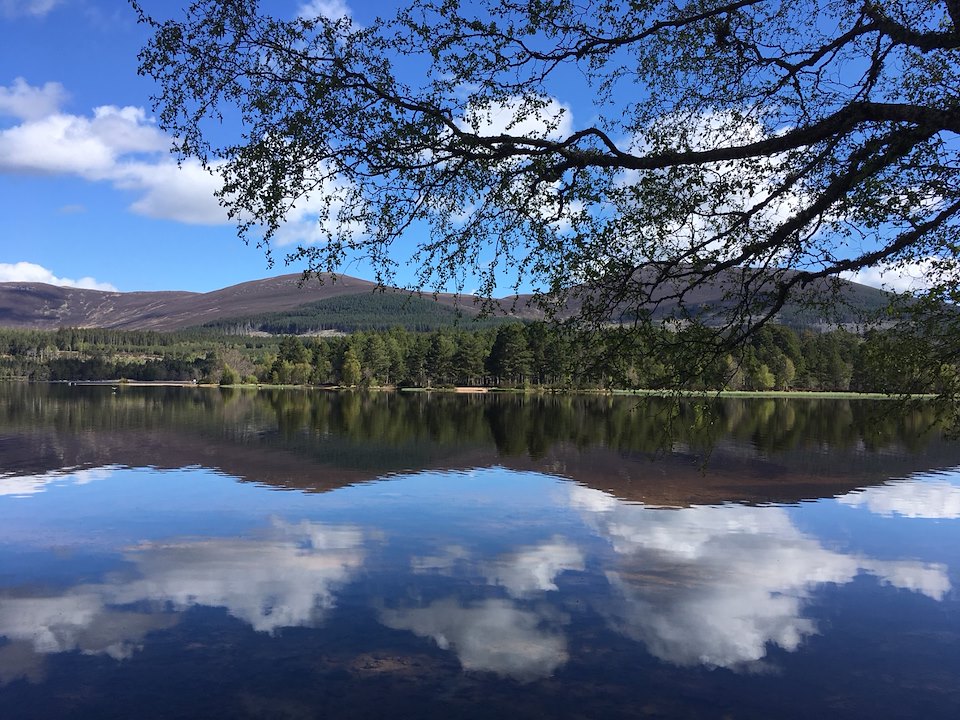 I tell our guests, who ask, that May is my favourite month in Aviemore and the Cairngorms National Park. It's normally the month when we get lots of blue sky, great temperatures (25+) and can get out and about well into the evening with the sun not going down before 10pm. 'Normally' being the key word!! Like the winter, you can't really tell what Mother Nature is going to do, and it is still Scotland (the North of Scotland at that) so there's still the chance of 4 seasons in one day. So far this May hasn't been as great weather wise, I'm hoping the blue sky and sunshine will appear (and stay) in June instead.
We did have a few brilliant days though, and a few of them occurred on my days off, so I did my usual and put my walking shoes on and ventured out around some of the lochs in the area. One of the routes I followed was from one of the Rothiemurchus visitors map, starting at Rothiemurchus campsite and ending at Loch Morlich. A good 10 miles, in a beautiful hot day with blue sky. It was bliss. You can pick up one of their maps around the Rothiemurchus estate. They do a lot of outdoor activities too, quad biking and clay pigeon shooting and more. Visit their website for more info: https://rothiemurchus.net/
The end point of that route was Loch Morlich (I got the bus back into Aviemore), did you know that Loch Morlich is the highest beach in Britain!? In the winter it definitely makes it the coldest beach but it's a hot spot at times with children (and the odd crazy adult) swimming in the loch. If you're not up for a swim, they do boat/kayak hire and all sorts of other watersport activities. I'd recommend it (on a sunny day). http://www.lochmorlich.com/
Also, Loch Morlich is great to dip your toes in to cool your feet off after a good hike!!
Loch an Eilein, The Lily Loch, The Green Loch and Loch Morlich all look spectacular, especially under the blue sky. If you are looking for some great photography locations or just some locations to fill your memory with beautiful landscapes, those are a good start.